Application
Our body needs to get rid of waste products. Share's fermented food is based on an ancient recipe from the Tang Dynasty.
Enjoy Share® in the evening
You can start your share routine with 1/2 piece per day. Your body has to get used to it before the helpful probiotics start working. However, be careful because the fruit is not pitted and the pit is still inside the plum. Increase to 1 per day as your body gets used to it.
Drink warm water
After eating the plum, drink at least 300ml-500ml of warm water.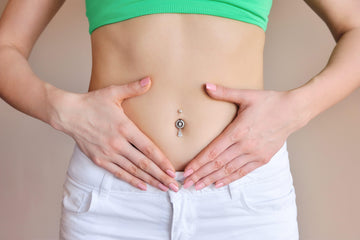 Healthy digestion
We feel the difference when we use Share products and want you to feel the same way. Everyone can use a little Share® in their daily routine to cleanse and balance themselves.
How can I best take the sample packs?
With your test package you will also receive a folder entitled "Your 1st week with Share®". There you will find a suggestion on how you can take the products.

I would start by enjoying only one product per day and only a "gentle dose" ie:
1/2 can of ShareAqua d'Oro drink
1/2 or 1/4 ShareOriginal Plum
or 1/4 SharePomelozzini® per day.
Why is drinking water so important with our fermented products?
We recommend that you always drink at least 500 ml of body-warm water with ShareOriginal Plum and SharePomelozzini Praline.

Warm, still water "wakes up" the probiotic microorganisms and helps remove toxins from the body.

The body has to warm up with cold water and this can lead to stomach cramps, but it doesn't have to.
When is the best time to take Share® products?
First of all, there is NO formula that is the same for everyone - we can only give you a general recommendation! Since they are fermented foods, you can eat them whenever you want.

You are free to eat them early in the morning or at lunch. Just see how it fits best into your day and what your gut feeling tells you.

TCM recommends taking it in the evening before going to bed because then the body calms down, but many customers also take it in the morning or at lunchtime.

You can eat them immediately or soak them in water in the morning and eat them in the evening.

Just try it and see how you like it best.

If this is your first time taking them, I would start with 1/4 or 1/2 fruit and see what your gut tells you.
How long should you take Share® products?
In order to positively influence the microbiome in the intestine, it is recommended to consume probiotic foods daily for at least 3-9 months.

According to TCM, you "cleanse" the large intestine after 3 months, the small intestine after 6 months, and the liver and gallbladder after 9 months.

Since these are fermented foods, they can be consumed daily as they stimulate intestinal peristalsis and can thus support metabolism.
How should you eat during a Share® treatment?
Every person is individual and unique, so there is no general answer to this question because everyone has a different daily routine, moves differently, is exposed to different stress, etc.

A healthy diet is very important! As soon as you start eating unhealthily, our fermented products can no longer "clean up" you as well as usual.

No wonder, because with an unhealthy diet, the intestines have to spend more time digesting the food and this leads to feeling bloated and "full".

However, we love the TCM approach, so I would recommend an alkaline diet. Eat at least 30g of fiber, cooked vegetables, potatoes, legumes and salad per day. Avoid alcohol, fast food or highly processed foods.

Drink plenty of still, body-warm water and exercise for at least 30 minutes a day. At least 10,000 steps per day are ideal.

Finally, getting enough sleep of at least 7-8 hours rounds off a healthier lifestyle.
Can you eat ShareOriginal® plum seeds?
Fermentation increases the bioavailability of vitamins and minerals in ShareOrignal® plum because it is not heated.

This leads to the formation of, for example, K and B vitamins.

At the core, it is said, is the "primary information" of the fruit, i.e. the taste.

I love opening the kernel with a nutcracker at the end because the inside is very soft, tastes so good and is a little sweet.
Can Share® products be taken together and what is the difference between the products?
Yes, these should even be taken together to get enough prebiotics and probiotics. Please read this article from us Difference between the products:

ShareOriginal® Plum ShareOriginal® Plum (Japanese: apricot) is allowed to grow "wild" and therefore has a core inside. It is picked by hand, fermented for 30 months and mixed with herbs (0.1% content) - according to TCM it is super alkaline and perfect for intestinal development and a healthy microbiome.

Recommended consumption of ShareOriginal® plum: Eat half a ShareOriginal® plum (Japanese apricot) in the evening before going to bed and drink 500 ml of body-warm water. (Attention: There is a core inside - but you can also eat it. Simply open the shell and the inner core contains a lot of vitamin B7) According to TCM, it is alkaline.

You can also drink ShareOriginal® plum tea: add 1 plum to 1 liter of 40 degree water and let it steep for 20 minutes. Afterwards you will have a delicious probiotic herbal tea and you can eat the plum at the end.

Share Aqua d'Oro® drinkShareAqua d'Oro® drink is the first drink in the world to contain 24 fermented fruits and vegetables. It is the gentle introduction to the world of pro- and prebiotics and has antioxidant properties. Here I would recommend half a can or one can per day.

SharePomelozzini® PralineIn a SharePomelozzini® Praline there are 5-8 grapefruits, they were crushed with the peel and fermented in the same original ferment as the ShareOriginal® plum for 30 months. It perfectly supports the liver and gallbladder because it is full of bitter substances, essential oils and enzymes! According to TCM, it has a purifying effect. I recommend cutting the fermented grapefruit in half and eating it in the morning or lunch.